Suicide Cleanup: Who Cleans Up After a Suicide?
Losing a family member or friend to suicide is a distressing experience. During this time, it's important to find the right support to cope with the unthinkable tragedy. However, there are often other logistics to address during this time, namely suicide cleanup.
If you're wondering who cleans up after a suicide, we have all the answers you need. Read on to learn more about how a compassionate, professional suicide cleaner can help during this process.
Professional Suicide Cleanup Services
An unattended, unexpected death, a suicide or suicide attempt can be extremely painful for friends and family members to cope with. Sometimes, homeowners or loved ones may be compelled to clean up the scene on their own – but this is not advised.
There are many potential health risks involved with a suicide or crime scene cleanup, including:
Bloodborne pathogens in blood spills and splatters

Biological materials, including bodily fluids

Mental anguish
The average person doesn't know the techniques or chemicals needed to properly complete a death cleanup. This can lead to property damage or spreading of biohazards. 
A professional cleanup company can assist with suicide clean up biohazard remediation the right way.
What to Expect From A Suicide Clean Up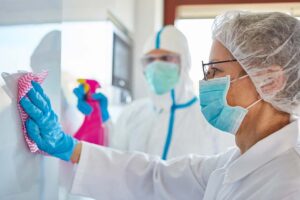 Professional suicide clean up services often begin with assessing the situation. You may be asked questions such as:
Where and how did it take place?

How long before the body was discovered?

Is weather or temperature a factor?

Is deodorization needed?
The answers to these questions can help a suicide cleaner determine the best approach, methods, and chemicals needed to clean up after an unattended death.
From there, a plan of action is created to efficiently and effectively begin the suicide cleanup. During this time, you can also expect compassionate service. Suicide cleanup is a highly emotional experience for homeowners and loved ones, and our team is here to help you.
Understandably, suicide clean up may be one of the last things on your mind – though it is a pressing matter. A professional team can help assess your needs with an acute understanding of the obvious and hidden biohazards that occur after an unattended death. 
Is Suicide Cleanup Covered by Insurance?
The cost to have a suicide cleaned up can range from $500 to $25,000 depending on the nature of the suicide and other factors mentioned earlier. Many homeowner's insurance policies will cover the cost of suicide cleanup or homicide cleanup.
If you're unsure about your homeowner's policy, it's best to reach out to your insurance company and ask. We can also help you answer this question. At Florida Emergency Cleaning, we deal with insurance companies on the behalf of our clients to make the process of suicide cleanup as easy and smooth as possible for those dealing with the loss of a loved one.
Florida Emergency Response Cleaning Suicide Cleaners
At Florida Emergency Cleaning, we have decades of experience with hoarding cleaning, crime scene cleanup, and more. We handle the most sensitive task of suicide cleanup to help ease the pain of such an event while ensuring your property is free of any biohazards. 
Get a quote for professional suicide cleanup service today.
Don't Hesitate
Book a Biohazard Cleaning Today
We can get a team of our thorough and professional COVID cleaning technicians to your location quickly. Don't hesitate to contact us.