Suicide Cleanup Cost: What To Know
Compassionate and Discreet Suicide Cleanup
When an unexpected death rocks your world, cleaning is the last thing you should have to worry about. No one should have to experience the grief and uncertainty that comes with the suicide of a loved one. Unfortunately, it happens every day in America, and Florida is no exception.
At Florida Emergency Cleaning, we take care of the cleanup process discreetly, lending you a hand when you need it most. Our team of local cleanup professionals are compassionate and happy to provide gentle and reassuring services during a dark time.
When you need help with the aftermath of a suicide, choose the best. Get in touch with us today to learn more about our suicide cleanup services.
Suicide cleanup is a service that not many people know about until they need it. Suicide cleanup can help you grieve your loved one without causing a health risk to friends and family. Movies and television might lead you to believe that suicide cleanup is something performed by the police or another first responder, not a third party.
Once the police clear the scene, however, you may still be left wondering how to restore the room to its former state. After all, first responders don't have the time available to stay on the scene long enough to clean. Furthermore, they may not be allowed to provide you with recommendations for a reputable service as it could be seen as a state endorsement.
"People […] still think the police or ambulance clean up (crime) scenes, but it's not the case." (1)
                                                                                    HuffPost
No one should have to clean up the aftermath of a loved one's suicide. When you aren't sure who to call, you can count on Florida Emergency Cleaning for help. We are here for you and can help provide you with answers about the next steps in dealing with a loved one's passing.
Compassionate and gentle, we understand the delicate matter of the situation and strive to provide discreet and efficient services without sacrificing quality. We serve the entire state of Florida, making it easy for you to call and get help with the responsibility of cleanup.
What is the Suicide Cleanup Process?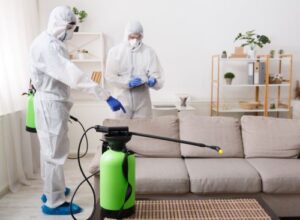 The suicide cleanup process may be different based on the type of building, how many rooms are affected, and the extent of the biohazard in the space. For example, the cleanup process may be rather straightforward if the suicide happened recently. If it took a while for someone to find the body, however, decomposition cleanup may be required. This type of cleanup is a deep-cleaning service necessary to ensure the space comes clean and may need to be done before standard cleaning procedures can take place.
Typically, a consultation will take place before any cleaning services are rendered. If the police have not set up a safety zone, this may also be done during this stage to prevent contaminates from spreading beyond the affected area, preventing loved ones from entering the space until it is safe to do so again.
After the consultation, the response team at Florida Emergency Cleaning will remove damaged materials such as upholstery, clothing, bedding, or other fabrics and porous materials that cannot be sanitized properly. Disposal of these materials is made through a biohazard waste facility and handled in accordance with Florida environmental and disposal regulations.
Once this stage is done, cleaning can begin. All affected regions will be sanitized, repaired, and restored to OSHA standards. At this stage, the body has been removed, allowing all visible signs of suicide to be cleaned thoroughly. After this initial cleaning, it is important that the area is sanitized thoroughly and restored to a like-new level of cleanliness.
How Much Does Suicide Cleanup Cost?
Certain complications may play a role in the cleanup cost, which is why many companies require a consultation before providing a quote. For example, if the individual committed suicide in a home with hoarding tendencies, a significant amount of work will need to be done to remove these personal items before cleanup can begin. The cleaning professionals will need access to every area of the room to provide a safe and thorough service.
If areas of the building's structure are permeated with biohazard materials, such as subflooring, carpet, or other porous building materials, these areas may need to be removed and replaced. This can significantly raise the estimated cost of cleanup, and unfortunately, because every home is so different, complications like this aren't often discovered until the consultation stage, or once the job is already in progress.
Typically, the total suicide cleanup cost ranges anywhere from $500 to $25,000 depending on the circumstances. Suicides that are discovered quickly and are confined to one room will be less expensive than one that spans multiple rooms. On the other hand, a suicide done by firearm, or spanning multiple rooms tends to require more cleanup and sanitization. The more labor and time required to thoroughly clean the space, the more expensive the job becomes.
Most Suicide Cleanup Costs Are Covered by Insurance
You may be surprised to learn that most suicide cleanup costs are covered by your homeowners' insurance if you are with a major provider and have a good policy in place.
Depending on the policy and the circumstances around the suicide, the insurance provider may cover all costs associated with the trauma incident because they are considered biohazards within the home.
If you are uncertain whether your policy covers the suicide cleanup cost, it is important to reach out to your provider. You may have to provide details about the event such as how long until the body was discovered and the method of suicide, as some plans don't cover 'unattended deaths.' These unattended deaths often require decomposition cleanup because it is legally defined as a body that is not discovered until days, weeks, or months after the event.
Can I Perform the Cleanup Myself?
When performing suicide cleanup services, it is strongly unadvised for family or friends to take on the task. Not only can this task be very emotionally distressing or downright traumatizing, but it can be dangerous as the chemicals and techniques used in the cleanup process may not be effective to prevent a biological hazard.
A non-professional cleaning up after a suicide may unknowingly spread biohazardous material around or cause property damage, causing plenty of problems down the line. It is best to leave this cleanup to the professionals, saving you the emotional distress and potential for health hazards down the line.
Why Hire a Suicide Cleanup Company?
Hiring a professional suicide cleanup service is the only way to ensure contaminates don't spread to other rooms, and that no one is exposed to a health risk. The trauma cleanup specialists at Florida Emergency Cleaning are trained to deal with biohazards related to suicide and death, properly cleaning and sanitizing the area according to state and OSHA standards.
Not only is hiring a suicide cleanup company the best way to deal with biohazard scenes, but it allows you to avoid further traumatic experiences and begin focusing on the grieving and emotional healing process.
Who Pays for Cleanup After Suicide?
In most cases, you can turn to your homeowner's insurance policy to pay for the suicide cleanup cost.
If the suicide took place in an apartment, it is typically the individual(s) on the lease who is responsible for payment. In this case, a renter's insurance policy may cover some or all the costs. The landlord may also be able to cover costs through their insurance policy if they are willing to work with you on the issue.
If neither of these options are available to you, you can also look into financing with the company that performs the cleanup services. You may also be able to go through the Crime Victim's Fund, established by the Victim of Crime Act (VOCA) which was enacted by Congress in 1984. This federal program provides funding to local and state programs which may be able to provide you with financial assistance or coverage for the suicide cleanup cost.
Leave it to Florida Emergency Cleaning
At Florida Emergency Cleaning, we are here for you. We understand that facing the suicide of a loved one is no small task, and you need room to grieve. Our team of professionals does their best to ensure you don't have to think about the cleanup process and you can start the grieving process.
Professionally trained in suicide cleanup, hazmat cleanup, and disinfection, and other forms of biohazard cleanup services, you can rest assured knowing the job will be done efficiently and thoroughly. We offer services across Florida; no matter which county or region you are in, we'll help you handle the aftermath of your loved ones' suicide. Give us a call today at (772) 486-4100 to learn more about our services and discuss the next step.
References:
HuffPost, Meet the Small Business That Most People Don't Know Exists Until They Need It, https://www.huffpost.com/archive/au/entry/meet-the-small-business-that-most-people-dont-know-exists-until_n_9602970
Don't Hesitate
Book a Biohazard Cleaning Today
We can get a team of our thorough and professional COVID cleaning technicians to your location quickly. Don't hesitate to contact us.