How to Board Up Windows: 5 Steps To Do It
Boarding up windows is no small feat. From procuring the sheets of plywood to properly sealing up windows and doors without damaging your property, there are a lot of moving parts during this process. 
Read on to learn more about how to board windows for all kinds of events along with the benefits of hiring professional services.
There are many reasons why you might want to board up the windows on your property, here are just a handful:
Many homeowners and business wonders choose to board up windows before a hurricane or other major weather event. Covering windows with impact-resistant materials can protect them from debris that could shatter them.
In the long-term, this proactive measure can also stop vandals who take advantage of the situation after natural disasters.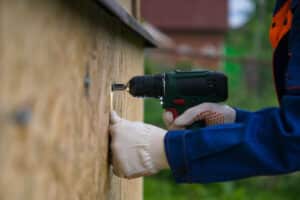 Prevent people from entering your vacant property. Covering windows with plywood keeps people from damaging, vandalizing, and even squatting on your unused property.
Protect your property and the expensive tools and materials inside during a renovation.
Whether you're boarding up your house for a hurricane or protecting a foreclosure from vandals, here are some easy steps for how to do it on a wood-framed house:
Take Measurements
First things first, from the exterior of your home, measure each window from the inside of the trim to get the width and height of the plywood you need.
Choose Plywood
Head to your local hardware store and select 5/8-inch or 3/4-inch plywood. Make sure to add eight inches to your measurements to allow the piece of plywood to overlap the window by four inches on each side.
Pro Tip: For larger windows, you might need to attach two pieces of plywood for proper coverage.
Mark Your Holes
For wood-framed houses, you will be drilling in pieces of plywood. Mark the locations for the holes in each corner and along sides at 12-inch intervals. Home Depot recommends that windows measuring 3-feet x 4-feet and smaller will use 1/4-inch lag screws, 2-1/2-inches long. 
Use thicker 3/8-inch lag screws, 3-inches long, around larger windows.
Drill Holes
Then, drill pilot holes for the lag screws at each reference mark. For average windows, the screws should penetrate the home's frame about 1-3/4-inches deep.
Place The Plywood
For the final part, reposition the panel over the pilot holes. Make sure to use a washer along with a lag screw to prevent the fastener from affecting the plywood. Then, use your power drill to secure the plywood over the window.
While it's possible to board windows up from the inside, it's not as secure as doing so from the exterior.
For a masonry house, the process is very similar when it comes to taking measurements. However, instead of using screws you will be installing barrel bolts and placing the panel in your window's recess. Alternatively, you could use window clips.
Perks of Hiring Professional Services
Boarding up windows can be time-consuming and possibly cause damage to your property when you don't know what you're doing. That's why you should trust the professionals to help.
At Florida Emergency Response Cleaning, we have an experienced team dedicated to property board-up services. Get a quote for boarding up service today!
Don't Hesitate
Book a Biohazard Cleaning Today
We can get a team of our thorough and professional COVID cleaning technicians to your location quickly. Don't hesitate to contact us.